Chico Wedding Venues at the Canyon Oaks Country Club
Canyon Oaks Country Club is an exquisite choice for your wedding ceremony and reception if you're getting married in Chico or the surrounding area. The expansive lush scenery will enchant your guests and provide you with endless photo possibilities, including a backdrop of romantic bridges and a cascading waterfall perfect for your wedding. Canyon Oaks has been a popular event destination for Chico residents and their families for generations. The amenities on location are second to none and our club is renowned for its luxurious attention to detail & treatment of guests. For young couples interested in getting married in the Chico area and wanting a scenic, sweeping destination, Canyon Oaks is truly a top choice.

The delightful garden and gazebo at this beautiful wedding venue provide a gorgeous outdoor space for both your wedding and reception guests. Canyon Oaks is one of the Butte County special event venues that offers unobstructed views where the blue of the sky meets the green of the course in perfect harmony. The second-story Vista Room is ideal for a formal indoor reception, providing breathtaking views of the perfectly manicured, towering oak-framed fairways.

This banquet room with adjacent terrace is a superb choice for guest lists of up to 150. The space's earth tones, large stone fireplace, and crystal chandeliers give your event the feel of quiet sophistication. Ready to discuss your big day?
Venue Details

999 Yosemite Drive
Chico, California 95928

(530) 343-2582 ext. 1
View Map
Total Square Footage:
2,400
AV Available:
Yes
Ballroom Height:
9'7"
Can Blackout Date:
Yes
Maximum Capacity:
150
Prefunction Space:
No
Valet:
No
Special Event Packages:
Yes
Wedding Venue & Reception Photos
As you'll find below, our venue's beauty isn't just a hollow selling-point, it's core to everything you'll find at Canyon Oaks country club. Explore the scenic views around the course within our venue highlight photos below and, when you're ready, schedule time to come see it for yourself. If you live in the Chico area — or plan to make a visit soon — our staff will be happy to meet with you and discuss your dream day vision.
Venue Highlights
Canyon Oaks Country Club offers a variety of indoor and outdoor event space to suit your needs, including the Grove, featuring a beautiful creek side gazebo and water front views. Our indoor reception room features crystal chandeliers, and opens to our outdoor terrace overlooking one of our many ponds.
Attention to detail
Bridal suites
Lake views
Booking Your Wedding in Chico CA at the Canyon Oaks Country Club - How To:
Ready to begin planning your big day or want to talk to one of our senior event planning staff members? Canyon Oaks has a team to help. When ready, select one of our team members below and we'll be happy to discuss venue details, location options, and more.
Stephanie LeClaire

Private Event Director

(530) 343-2582 ext.1

My passion for the hospitality industry keeps me learning and open to new ventures. I enjoy meeting new people and helping others, which is why I love what I do!
Event Spaces & Ceremony Sites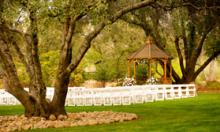 Situated between the 1st and 18th fairways of our spectacular golf course, The Grove is a picture-perfect locale for wedding and vow renewal ceremonies. Featuring a lovely gazebo and beautiful views of the surrounding countryside, The Grove can accommodate up to 150 guests.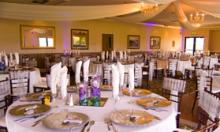 Located on the second floor of the clubhouse with stunning panoramic views of our emerald-green golf course, the Vista Room features a beautiful rock fireplace, crystal chandeliers and lovely décor that can be customized to complement any color palette. An adjoining outdoor terrace, built-in dance floor and full-service bar make the Vista Room an unrivaled setting for memorable wedding receptions and other large-scale events accommodating up to 150 guests. Dimensions: 37 x 65 or 2,400 sq ft.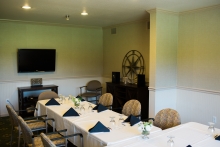 Our handsome conference room features rich décor, comfortable seating for up to 15 guests, a flat screen TV and sensational views of the golf course, and is ideally suited for business meetings, wedding party functions, or other more intimate events. Dimensions: 13 x 21 or 273 sq ft.
Chico Wedding Venue Client Reviews
"Thank you so much for all the work you did for our wedding! Everything came together so perfectly. You were a huge help in the brainstorming process and we were so appreciative of your patience and expertise. It was such a pleasure meeting and working with you!"

"You were heaven sent! Our day wouldn't have been as beautiful as it was if it weren't for you! Thank you doesn't seem to be enough, but... Thank you... from the bottom of our hearts!"