Long Beach Wedding Venues at El Dorado Park Golf Course
At El Dorado, we've got everything you need to make your next celebration truly special. The tranquil setting is able to accommodate your wedding ceremony and reception. Our onsite catering and event staff is available to assist you with planning every detail for your special occasion. You'll find the peaceful venue is conveniently located in Long Beach and only minutes from Los Angeles and Orange County.
Because of our long history of serving course visitors, event attendants, and numerous wedding guests, our staff is the absolute best you could hope for on your big day. The service is professional, the details are attended to, and we make it our personal mission to give you the perfect wedding.
We are a unique and special location because we have a permanent tented space that can easily host up to 350 guests! We also specialize in creating customized packages to fit any needs and any budget. While walking up to our venue, your guests will enjoy scenic views of our golf course while enjoying the ambiance of our bistro lighting. Our Garden Pavilion has beautiful floor to ceiling draping throughout, with string lighting to dazzle! At El Dorado, we take pride in hosting every event, be it a small intimate gathering or an extraordinary celebration!
Visit the venue today to see how we can turn our ceremony lawn, garden pavilion, and other spaces into the setting you've always dreamed of. It is not wonder that El Dorado Park Golf Course is one of Long Beach's most beloved wedding venues. Come stop by to start planning your lifelong dream wedding, we are open 7 days a week!
Venue Details

2400 Studebaker Road
Long Beach, California 90815

(562) 795-7751, ext. 3
View Map
Total Square Footage:
4,000
AV Available:
Yes
Ballroom Height:
20 ft.
Can Blackout Date:
Yes
Maximum Capacity:
350
Prefunction Space:
Yes
Valet:
Yes
Special Event Packages:
Yes
Tent included

Climate-controlled space

Ceiling draping included

Patio bistro lighting

String lighting throughout tent

Shaded ceremony site
Laura Noble

Private Event Director

(562) 795-7751, ext. 3

Laura grew up in Orange County California. She got her B.A. in Education from Sonoma State University in Northern California! Laura began her career with American Golf in 2016. Before joining the American Golf team, Laura was the Director of a summer camp run through her college. Her favorite part about event planning is seeing someones dream event come to life! Laura loves spending time at the river with her family!

Catherine Isip

Private Event Coordinator

Catherine graduated from Saint Mary's College of California with a degree in Sports Management. After being involved with tennis for 20 years as a former player, head coach and administrator, she landed a job at a children's foundation out in Las Vegas. During her tenure, she found her passion for all things coordinating and watching events come to fruition. Since then, she has enjoyed and loved meeting with anyone she crosses paths with and hopes to make an impact at El Dorado.
Event Spaces & Ceremony Sites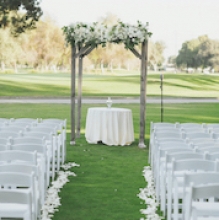 Situated above the eighteenth green and boasting breathtaking views of the entire course, this semi-private garden is the perfect place to tie the knot. Couples can rent a variety of different items to help personalize their wedding, including a white lattice archway or arbor, white garden chairs, a unity table, white aisle runner, and a white gazebo.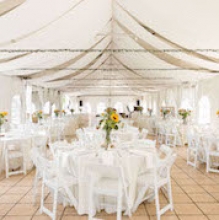 This stately, 4,000-square-foot reception pavilion features a number of delicate decorative touches, including chandeliers, soft accent lighting, and luxurious ceiling drapery. The pavilion is also located near a garden, so guests can casually walk between the two spaces. Featuring plenty of romantic backdrops for intimate and romantic photos, as well as audio/visual equipment included within the venue, the Garden Pavilion is one of the best locations to host an event, large or small.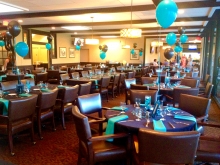 Accommodating up to 96 guests, our restaurant features floor-to-ceiling windows overlooking the course, as well as breathtaking stained glass light fixtures. The space can be rented for private events on select Saturday evenings. Please enquire with the Private Events Department for availability and menu selections.
Wedding Venue Client Reviews
"As the father of the bride, I could not have been more pleased with the services provided by the El Dorado Park Golf Course Event Center. They took my daughter's plans and executed them perfectly. The setting was beautiful and the venue was like a dream. The serving staff was incredible. Guests commented that their slightest requests were met within seconds. Having shopped for a venue, this was by far the best value we could find and we were not disappointed. The proof was on my daughter's face as she was able to experience the dream of a lifetime - the PERFECT wedding."

"El Dorado is an excellent venue to have your event. The tent and golf course are very well-kept. All of our wedding guests loved the food. El Dorado staff members all demonstrated exceptional levels of professionalism. All of our concerns were addressed promptly and they were able to work within our budget. It would be difficult to find another venue that could match the quality of service at the price El Dorado offers. We look forward to booking a future event!"