Buena Park Wedding Venues at Los Coyotes Country Club
Do you dream of a wedding day venue with sweeping outdoor spaces and elegantly designed interiors? Do you love the idea of having your wedding day on a beautiful lakeside with numerous, landscaped settings for hosting your guests on your big day?
Los Coyotes Country Club in Buena Park is a great choice of venue for your dream wedding day. The ceremony sites accommodate up to 180 guests and provide a lush outdoor setting with gorgeous, flowering hibiscus and spectacular lake and fountain views perfect for the ideal country club wedding.
Is finding a large wedding venue important? While Los Coyotes is great for a wedding of any size, the Grand Ballroom's terrace is ideal for a larger wedding ceremony, holding up to 350 guests. The terrace provides expansive views of the manicured course from an elevated vantage point. For indoor events or receptions, The Cypress Palm Room can seat up to 200, with french doors offering a superb view of the lake. The Grand Ballroom is surrounded by floor-toceiling windows providing a panoramic view, while Mediterranean-styling, high ceilings, recessed lighting and soft cream colors allow you to easily customize the décor. The room can also be divided to accommodate more intimate gatherings! A fully appointed bridal suite is available as well.
When planning for your wedding in the Buena Park area, be sure to contact Los Coyotes Country Club's event staff to discuss a visit.
Venue Details

8888 Los Coyotes Drive
Buena Park, California 90621

(714) 994-7788
View Map
Total Square Footage:
6,615
AV Available:
Yes
Ballroom Height:
18 ft.
Can Blackout Date:
Yes
Maximum Capacity:
350
Prefunction Space:
Yes
Valet:
Yes
Special Event Packages:
Yes
Outdoor ceremony location

One wedding at a time

300+ person capacity
Selina Cothran

Event Sales Director

Selina started her career with American Golf at Coyote Hills Golf Course as a Bartender and quickly worked her way up to Private Event Manager. After 5 years, she was ready to take on her own property and took on the role as Private Event Manger at San Dimas Golf Course. She spent 2 and a half years there and returned to Coyote Hills where she helped bring the team to #1 in Private Event Sales. In 2013 Selina took on a new challenge as the Event Sales Director at Los Coyotes Country Club to add Tournament Sales to her repertoire. Since joining the team, Los Coyotes has become a course to be reckoned with and was #1 in the company for 2015. Selina has won several awards in her 13 years with American Golfing including 2 time MVP, 3 time Legends Club and 2015 Hall of Fame recipient. When she is not dominating Private Event Sales, Selina enjoys reading, traveling and outdoor adventures. She loves to sing and dance, and one day hopes to learn how to play guitar. Selina likes to surround herself with motivated, positive people who will challenger her on a daily basis.

Jennifer Flores

Event Sales Director

At the early age of eighteen, I began my journey as a server at Diamond Bar Golf Course. My job was to finalize the finishing touches, to "set the stage," if you will. I placed the napkins, set the silverware, and I served guests. As the days passed, I learned quickly, going above and beyond because my passion, and my soon to be career was right in front of me. I'm grateful to have had the opportunity to start off as a server. I was able to go through every aspect of working an event, and obtain a careful grasp of all the paramount details that provide guests with unforgettable memories. 27 years later, I'm back where it all started - Diamond Bar Golf Course. Except now, I hold the Private Event Director title. Though many things in my life have changed, my love for creating fabulous events remains as fresh as it was when I was eighteen. My passion has provided results, winning the Legend Award, Wedding Wire, and more. When I'm not working, I find happiness in hanging out with friends and family. It's the little things that mean the most.

Hannah Schade

Sr. Event Sales Manager

I am an Orange County native and completed my undergraduate degree at Saint Mary's College of California (Go Gaels!). I recently graduated with my Master's Degree from Long Beach State, where I also worked in the athletic department focusing on hospitality. I enjoy seeing an event through from start to finish, and am excited to join the Los Coyotes Country Club team.
Event Spaces & Ceremony Sites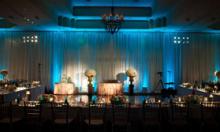 Featuring soaring ceilings, recessed lighting, rich Mediterranean-style furnishings and floor-to-ceiling windows with breathtaking panoramic views of the golf course, the Grand Ballroom offers an unrivaled setting for larger events – ranging from wedding receptions and charity galas to corporate holiday parties, bar/bat mitzvahs and quinceaneras. The space can also be divided to accommodate more intimate events, or incorporate an adjoining private foyer or cocktail area for larger events.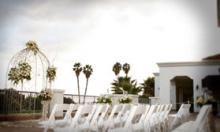 Perched on an elevation that affords panoramic views of the golf course, the Grand Ballroom's Terrace is a spectacular locale for pre-event festivities and ceremonies. Another unique setting is our premier Lakeside Ceremony Site, bordered by a tranquil lake on one side and a large putting green on another, the site provides the quintessential golf course experience. Both sites can accommodate up to 300 guests.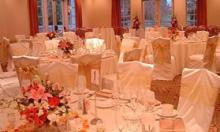 The Cypress Palm Room is an exceptional choice for more intimate indoor events, with seating for up to 90 guests. Complementing the room's beautiful Spanish-Mediterranean furnishings are French doors leading to a private verandah, offering picturesque views of the lake.
Wedding Venue Client Reviews
"We recently held our daughter's wedding here, and it was nothing less than perfect. The staff, the food and accommodations were great and the bartender was amazing, he had your drink ready for you before you even reached the bar. It was so nice to be a participant in our daughters wedding and not worry about a thing. Thank you so much, our guests were still talking about our event days later!"