Huntington Beach Wedding Venues at SeaCliff Country Club
Less than a mile from the Pacific Ocean, near the historic Huntington Beach Pier, SeaCliff Country Club is an ideal venue for a jaw dropping outdoor wedding. The only private club available to non-member events in Huntington Beach, SeaCliff Country Club offers a variety of attractive features that make this exclusive venue a dream wedding destination for the soon-to-be-wed couple.

As a wedding venue, SeaCliff really has it all. With exceptional views of the sparkling lake and incredible greens, the Oval Terrace can be set with a white Grecian colonnade or a Cinderella arch to greet you as you walk down the aisle.

In search of something more traditional? The SeaCliff Room is an excellent choice if you're planning a large beachfront wedding with a formal ballroom ambiance. Accommodating up to 300 guests, this room is highly customizable with neutral décor, high ceilings, and recessed lighting. Alternatively, the recently renovated Pacific Room is perfectly suited for more intimate gatherings. It offers a stylish, clubby atmosphere with an adjoining private foyer and bar that will complete your perfect southern California beach wedding with style and charm.

Orange County and Huntington Beach collectively offer many venues but with its beautiful vistas, sprawling green grounds, and multiple options for the perfect room, none are quite like SeaCliff Country Club. Visit today to discuss your wedding schedule with our expert team more.


Venue Details

6501 Palm Avenue
Huntington Beach, California 92648

(714) 536-8866
View Map
Total Square Footage:
15,000
AV Available:
Yes
Ballroom Height:
11.5 ft.
Can Blackout Date:
Yes
Maximum Capacity:
600
Prefunction Space:
Yes
Valet:
Yes
Special Event Packages:
Yes
Venue Highlights
Located just a quarter mile from the Pacific Ocean in beautiful Huntington Beach, SeaCliff Country Club is one of the finest private country clubs in Southern California. With breathtaking views of lush greens and crystalline lakes, SeaCliff is the perfect setting for your wedding ceremony and reception. Life is better with a Sea Breeze.
Our beautiful outdoor ceremony location on the Oval Terrace with a view of the golf course
Ballroom has a private bar, foyer, courtyard with a fountain, and can accommodate up to 300 guests
The Pacific Room, with a wrap around outside terrace overlooking the beautiful golf course, and floor-to-ceiling windows, can accommodate up to 150 guests
Booking Your Huntington Beach Wedding at SeaCliff Country Club
SeaCliff Country Club has everything you need for your special day. Contact one of our experts below to start planning your dream beach wedding with our event planning staff!
Lindsey Fields

Event Director

(714) 536-8866, ext. 130

With over five years of event experience, Lindsey knows just what an event needs to create a unique experience for each guest. Outside of the office, Lindsey enjoys getting creative in the kitchen and trying flavors from different cultures. If you challenge her to Harry Potter trivia, she will win. On the rare occasion she has a weekend available, you can find Lindsey going to concerts, brunching with friends, or planning her next trip to a fun destination!

Gregory Varley

Event Sales Director

(714) 536-8866 ext. 124

I grew up in Northern Virginia right outside of Washington, D.C. before moving out to California in 2012 to work at The Disneyland Resort. After many wonderful years at the Happiest Place On Earth, I decided to move into the wedding industry to make a whole different kind of magic. I love meeting new couples and finding out how we can make their wedding day perfect and a day they will never forget!
Event Spaces & Ceremony Sites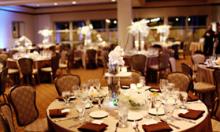 With its stately ceilings, luxurious décor and airy, welcoming atmosphere, the SeaCliff Room is a wonderful choice for anyone who's looking to host a larger wedding of up to 300 guests or more.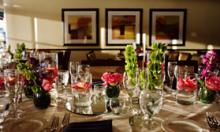 One of our more sophisticated event spaces, The Pacific Room features richly appointed furnishings and a fun, club-like environment—there's even an ebony grand piano. The space features a deeply enticing mocha and burgundy color theme, and it boasts its own private granite-topped bar and spacious foyer. Celebrate in style while also taking in sweeping views of both the lake and the perfectly manicured golf course.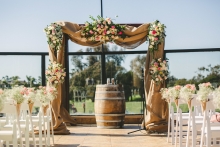 Featuring panoramic views of the fairways and the coastal sunsets, the Oval Terrace is the ideal location for both ceremonies and receptions, as it can accommodate anywhere from 20 to 200 guests. It also features four fire pits, comfortable lounge furniture, and, of course, stellar views. The Terrace can also be used as an extension to the Pacific Room and Lounge.
Huntington Beach Wedding Venue Client Reviews
"Everything was perfect! They provided more than we expected from the beginning! I plan to have another party here at some point. My guests loved the atmosphere!"

"Absolutely AMAZING!!! I just can't say it enough. I'm pretty sure the girls at SeaCliff are tired of me telling them that. The Event Directors, Event Coordinators, Banquet Captain and setup crew..Thank you for such incredible service and awesome food! Everything from the set up to running the show was outstanding.With all the changes that I made throughout the process, I was met with nothing but a can do attitude from everyone. Thank you so so much for all the attention and detail into making my event such a great one! "