Outdoor Wedding Venues in Los Angeles at MountainGate Country Club
Situated in the shadows of the majestic Santa Monica Mountains just a short distance from Bel Air and Brentwood, MountainGate Country Club is one of the Los Angeles region's most breathtaking outdoor wedding venues. If you and your fiancé are in search of spacious landscapes with beautiful gardens and views, schedule your visit with our planning staff today.
Our garden area wedding venues offer an array of customizable space for events, ranging from intimate wedding ceremonies and vow renewals to rehearsal dinners and wedding receptions. For indoor ceremonies and receptions, the Main Dining Room holds up to 200 guests, with an adjoining patio that can expand the space to a 450-guest capacity.
Floor-to-ceiling windows allow for plenty of natural light and showcase emerald fairways and the impressive Santa Monica Mountains in the distance. The Main Dining Room also features a warm, cherry-wood ceiling and crown moldings, rustic wrought-iron chandeliers and matching wall sconces. The outdoor veranda is ideal for gala affairs, with hanging lanterns strung from one end to the other, providing a softly-lit dining area and dance floor. You'll find it difficult to imagine a more romantic setting.
As you begin your hunt for the perfect location to host friends and family for your wedding day, we hope that you'll visit MountainGate Country Club — just a short drive from Los Angeles — to see everything our indoor and outdoor spaces have to offer.
Venue Details

12445 Mountaingate Drive
Los Angeles, California 90049

(310) 476-6215
View Map
Total Square Footage:
12,443
AV Available:
Yes
Ballroom Height:
14 ft.
Can Blackout Date:
No
Maximum Capacity:
600
Prefunction Space:
No
Valet:
Yes
Special Event Packages:
Yes
Venue Highlights
The event spaces at MountainGate Country Club offer three distinct locations for your dream day. Our Main Dining Room is a luxuriously appointed space filled with grandeur and beauty befitting any dream wedding. Our MountainGate Vista and Garden Terrace venues, on the other hand, bring all of the natural outdoor beauty of the club into two great outdoor venues. Regardless
of your vision for your big day, we're sure to have what you've been looking for.
One wedding at time

Golf course ceremony site

400+ person capacity
Alyssa Branham

Sr. Event Sales Manager

(310) 476-6215, ext. 104

Alyssa began her career in special events and weddings with a catering company in Orange Country. While completing her degree at Cal State LA, Alyssa moved into Event Sales at the Redondo Beach Historic Library. Two years later, she joined the American Golf Team at MountainGate Country Club as the Membership Relations Director, creating and coordinating member events. In 2016, Alyssa moved to Los Verdes Golf Course as the Senior Private Event Manager. After more than 10 years of experience in special events, Alyssa has seen all sides of the creative process from creation to execution. With clients and vendors, she works to create seamless, memorable experiences. Born and raised in Southern California, she enjoys traveling, spending time outdoors, and with friends and family. Alyssa looks forward to the new adventures each day brings, and the privilege of being a part of each client's special day.
Event Spaces & Ceremony Sites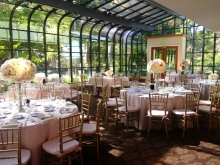 The Main Dining Room features a number of wonderfully opulent decorative touches, including a double-faced fireplace, a glass atrium, and spacious dining room that can accommodate up to 200 guests. The room features floor-to-ceiling windows that wrap around all three sides of the room with impressive views of both the majestic Santa Monica Mountains and beautiful fairways. The classically designed Dining Room features a cherry wood ceiling, wrought-iron chandeliers, and crown moldings. The Main Dining Room is, by far, our most charming and upscale venue on the property. The Club is also happy to customize the space for you; we're eager to help you get the most out of your special day.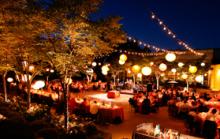 For a truly glamorous event, you can host your reception on our Garden Terrace for an event set under strings of romantic lights and the twinkle of the stars. The outdoor terrace can seat up to 600 guests.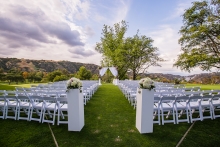 MountainGate's picturesque ceremony site overlooks rolling hills, and sits beneath an array of birch trees that provide relaxing shade.
Wedding Venue Client Reviews
"My name is Irene Tatevosyan and I recently organized an event, for the graduating class at USC Law, that was held at MountainGate on Friday, April 18th. I am writing to you because I would like to give my highest regards to your Director of Events (Jazmin), Assistant Director of Events (Anna), Director of Food and Beverages (Ryan), and the entire staff that worked the event that night. From the beginning, Jazmin and Anna did tremendous work helping us plan an event that met our budget but, at the same time, was spectacular. At the event, Ryan made sure all my questions were answered, and made sure everything was as it was supposed to be. I am truly impressed with your management and staff. I had guests approaching me the entire night letting me know how beautiful and successful the event was. It is, to this date, the best Gala USC Law has held and it was made possible by MountainGate. Again, I cannot say enough what a wonderful events team you have. I will be recommending this venue to everyone I know, and from the praise I heard from the 215 guests at the event, they will be doing the same."

"Our wedding was absolutely amazing, everyone loved Mountaingate & said it was so unique to be able to have a reception that had both an inside and outside area. I researched over a 100 venues online and was surprised to find that most are either all inside or all outside, having both was on our top 10 things that a venue had to have. Mountaingate was phenomenal & such a pleasure to work and they were always on top of everything. Everyone was VERY impressed with & could tell that the Sales team took there job very seriously. We received comments from our parents and guests that said it was the most beautiful, fun and well organized wedding they had ever been to."